Discover more from The Counteroffensive with Tim Mak
A war correspondent's open notebook, reporting live from Kyiv. Compelling human stories that illustrate what's happening during the Russian invasion of Ukraine.
Over 45,000 subscribers
The liberation of Kherson, and what it cost one teenager
A year ago this weekend, Kherson was freed. Chipka turned 19 as the war began. He helped liberate the city, but combat with the Russian army engulfed the final year of his teenage life.
Editor's Note: Tim is offline today, trying to arrange passage to a place where there's no reliable internet – in fact, it's one of the most dangerous places in the world. Stay tuned for the next issue to find out where he is reporting from.
We're following thorough safety precautions to bring you critical journalism you won't find anywhere else. Please upgrade now to support our important work!
On March 2, 2022, Chipka celebrated his 19th birthday. 
But there weren't candles, a house party, or drinks. 
On his birthday he was fighting for his life, working with other Ukrainian soldiers to prevent Russian troops from occupying the Zaporizhzhia region.
I agreed to meet Chipka near his university in Podil. He left the army because of a severe injury. Chipka started studying political science at Kyiv Mohyla Academy this September because he wants to help improve Ukraine over the long term.
Chipka doesn't tell people that he's a war veteran. I couldn't find his photo on the Internet, so I saw him for the first time in a coffee shop. You would never think he fought. He had long, curly hair, and was slim. 
The fact that someone like him engaged in violent combat is a simple illustration of how much Ukraine has given up in this war. His eyes show the terrible things he witnessed in battle.
For more than 11 months, Chipka was a junior sergeant in the 128th Separate Mountain Assault Brigade, based in the Zakarpattia region. He asked that we not disclose his real name – he used his nickname instead.
He came up with this nickname because of his love for Ukrainian literature. It was the name of the protagonist of the novel 'Do Oxen Low when Mangers are Full?' by Panas Myrnyi. Set in the mid-19th century, the novel tells the story of a peasant named Chipka, who suffers many injustices, culminating in the murder of his family member.
Chipka signed up to serve in the military right after graduating high school at the age of 18. It was his coming of age event.
"I practically grew up in the army," Chipka said. 
A year later, a full-scale invasion broke out, but Chipka was prepared for it.
"When I was young, I read many stories about our people fighting since 2014. I was not afraid. Before April, we believed that we would soon liberate Crimea," Chipka told The Counteroffensive.
Unfortunately, things didn't go as planned. Throughout the spring and most of the summer of 2022, the 128th Brigade was in Zaporizhzhia Oblast. At first it was defense. 
And then the training began. 
"We were taught to storm the trenches. We were given new equipment. Several new vehicles, thermal imagers, radios. We realized that there would be some kind of offensive," Chipka said.
They had been told to prepare for an attack in the Zaporizhzhia region, but at the last minute things changed. They were brought to Kryvyi Rih in Central Ukraine, and were ushered slowly toward the frontlines. 
Until the military campaign began, no one knew what was happening. Forces were being massed, equipment and people were being accumulated by the day – and soldiers could only guess that something was going to happen in the Kherson region. 
It wasn't until the day before the assault that they received word. 
"It happened very fast," Chipka said.
It was the first stage of the counteroffensive in the Kherson region. During this time, there were a lot of losses – not only killed, but also wounded.
"It is very hard to lose your friends and comrades. You are always with them," Chipka said.
Despite having seen many deaths, Chipka has no regrets about his choice. He says there was no time for that, because you are constantly fighting, going on attacks.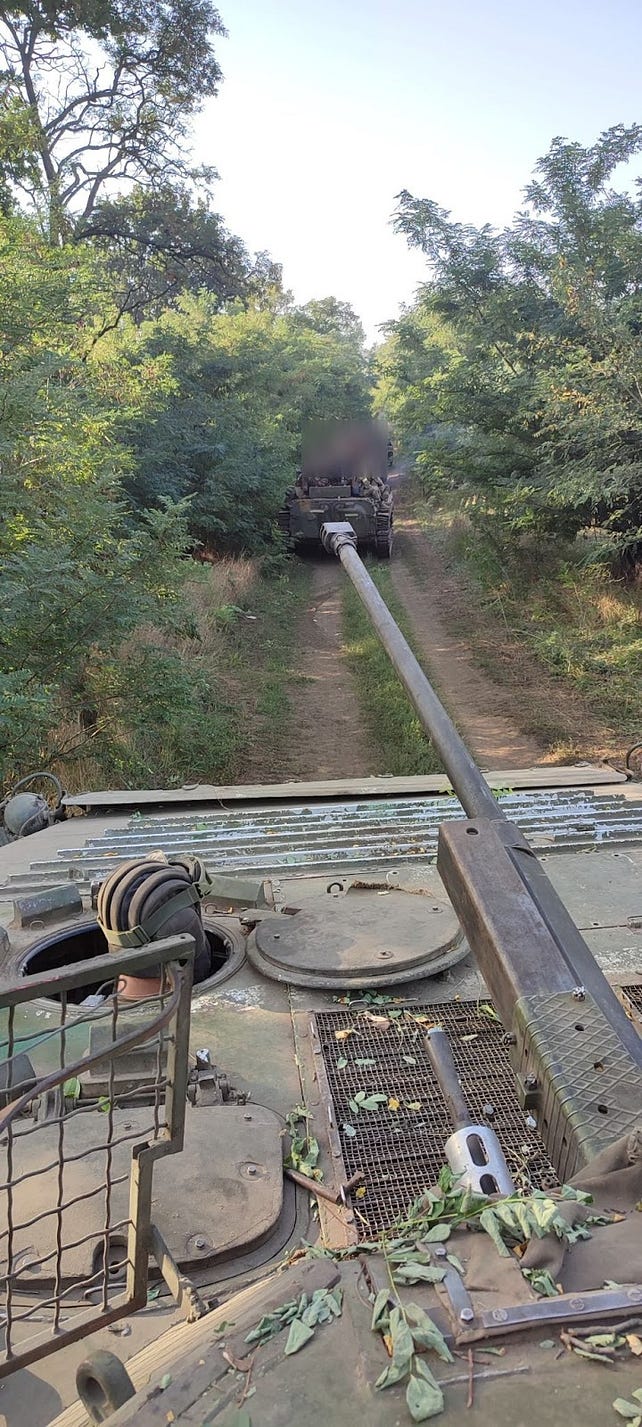 In late September 2022, everything came to a halt. The Armed Forces waited for reinforcements for several weeks. Then in October, one of Ukraine's most triumphant operations commenced, resulting in the liberation of the city of Kherson.
"We went about 20 kilometers before the Russians stopped us," Chipka said.
The Russians were tired, and many of them had been killed. They didn't have enough equipment, and their resources were depleting. Large-scale mobilization had not started. 
Bad weather also provided help for the Ukrainian soldiers.
"It rained heavily for three days. While we were moving, we could see up to half a mile or a kilometer away. There were no drones. The Russians couldn't aim their artillery at us because we were not visible," Chipka said. 
In each village they freed, the residents were thrilled to see the Ukrainian military. The 128th Brigade halted at Charivne, a village located 60 kilometers from Kherson, the regional center. They waited there for further orders. This was because the Russians had pulled back to the left bank of the Dnipro (located on the east side of the river).
"We figured out that the Russians were retreating because there was no reaction. Our attack began at 4 a.m. and we were not hit [with return fire] until 12 p.m.," Chipka said.
On November 11, it was formally declared that Kherson had been freed.
"There was euphoria because it was over," Chipka said. "We thought we would get some rest after this hard counteroffensive. But it turned out differently."
The battle for Kherson was very violent, despite its success. A lot of soldiers lost their lives, and many more were severely injured. One reason for this was the low quality of the Soviet equipment they were using, since European and American weapons were scarce at the time.
"If NATO equipment, those Bradleys [armored fighting vehicles], had been there, this counteroffensive would not have been so bloody. We had a story that nine soldiers were killed in one infantry fighting vehicle. If it was Bradley, this would not have happened," Chipka said.
If the Ukrainian military had equipment from the West, they could have taken more land, he said. The Russians didn't have enough soldiers at the time.
"With sufficient equipment, they could have achieved more. Unfortunately, the opportunity has passed, and now we can only reflect on what could have been," Chipka said.
The 128th Brigade remained in Charivne village for two weeks after Kherson's liberation.  They were later redeployed to Bakhmut, where Chipka got wounded a few months later. 
He took a bullet in his shoulder, which severed a nerve and a vein, effectively paralyzing his arm. After a long period of treatment, his arm partially regained its function. Chipka's fingers cannot bend, and doctors cannot guarantee if this will ever change.
He has not made any plans for what he will do in the future, but he has no intentions to go back to the war. 
And yet, at just the age of 20, he figures that he'll one day be pulled back into the violence.
"I believe this won't be the final war and I will have to engage in battle once more," Chipka said.
He smiled and said it confidently, without fear or pity.
Not like a child, but like a grown man.
The Counteroffensive with Tim Mak is a reader-supported publication. To receive new posts and support our work, consider becoming a free or paid subscriber.
NEWS OF THE DAY:
Good morning to readers. Kyiv remains in Ukrainian hands. 
Today in Kherson, a year after liberation, a library was destroyed by a Russian missile attack. There was one casualty and 4 people left injured.
Yesterday former NATO SecGen Anders Fogh Rasmussen suggested that Ukraine should join NATO but that it should not include occupied Ukrainian territories. This could be possible due to a precedent set when West Germany joined NATO in 1955. This meant that had West Germany been attacked, it would have been considered an attack on NATO. However, this did not apply to East Germany.
This week has put a damper on last week's good news that came from Ursula von der Leyen's trip to Kyiv.  Last week the European Commission president announced that the EU was ready to begin accession talks in December. 
Hungary has proved to be the main political opposition to Ukraine joining, arguing that Ukraine has not sufficiently reformed its laws on the projection of the rights of minorities to meet EU standards.  Budapest cites the language of education law that requires all minorities, including the Hungarian minority in Ukraine, receive a minimum of 70 % of their education in Ukrainian.
Although Kyiv's European Integration minister said that Ukraine could work to reform this, statements on Friday from President Orban were not encouraging: "EU must not start membership talks with Ukraine," he said. 
WESTERN SUPPORT — A BRIGHT SPOT: Following concerns that Western support is wavering, Germany's governing coalition has agreed that it will double military aid for Ukraine, Bloomberg reports. Yesterday the EU's High Representative for Foreign affairs and Security Policy, Josep Borell, said that while the EU has the means to continue support, the US, which has so far been Ukraine's most significant contributor, shouldn't be relied upon for continued military support. 
Latvian President Edgars Rinkēvičs urged allies to stay strong in supporting Ukraine, "because if we stop Russia in Ukraine, then Russia is not going to be able to challenge other countries."
NORD STREAM PIPELINE EXPLOSION: An investigation by the Washington Post and the German media outlet Der Spiegel revealed that Ukraine is likely responsible for the Nord Stream pipeline explosion. 
Ukraine continues to deny this. 
Roman Chervinsky, a senior Ukrainian military officer, has been identified as a leader of the attack. The operation is said to have involved six people who rented a sailboat under fake names and dived into the water placing the explosives on the pipeline, causing it to leak.
RUSSIAN ATTACKS AVDIIVKA: For the last month Russian forces have continued to attack Avdiivka in an attempt to capture it. Avdiivka lies 13 kilometers from occupied Donetsk, which is a Russian strong-hold. The battles around Avdiivka have produced the heaviest losses of this year for Russia and, according to Ukraine's Commander-in-Chief Valerii Zaluzhnyi, Russia has lost 10,000 troops in a single month. 
REPORTER'S NOTEBOOK: 
Hi there - it's Myroslava here. 
Kyiv is not as warm in autumn. But the sun is shining on Maidan Nezalezhnosti, the main square of the capital. People are walking around even in the middle of the working day. But not all of them know that just five minutes from the Maidan is a tragic exhibition.
From the beginning of the full-scale invasion, burnt and destroyed Russian military vehicles were lined up at a place called Mykhailivska Square. They are cracked and broken inside, with a terrible smell of burning. And despite the ugly sight, an understanding comes – here were the occupiers who wanted to kill and torture you and your family. These vehicles only make you happy that it was the Russians who were in this place and not you.
Among them, there are disheveled civilian cars from the occupied Kyiv region lined up. Broken glasses, burnt seats and children's toys... and blood stains. It's the most horrifying sight you could ever see. It is hard to imagine what happened to the civilians who were inside. It leaves little hope that they were rescued, returned to normal life and walk now among us. 
One of the cars is green. It really stands out from all the other vehicles. 
Black, white and blue national emblems were painted on it, a flag was drawn and various inscriptions were made: "Tokmak is Ukraine", "Ukraine will win", "Putin is a dick".
A few days ago, a new item was exhibited in the square: the Rescue Train. In early March 2022 it was evacuating civilians from Irpin, which is located just 10 kilometers near Kyiv – and was just outside the area occupied by Russian forces. 
The Ukrzaliznytsia train is standing on the tracks, as if it were about to move. But you don't have to look very hard to see the rusting holes - traces of the terrible shelling.
In March 2022 when enemy troops approached Kyiv and cut off all evacuation routes, the only way to escape from Irpin and the surrounding settlements was by rail. 
At Irpin station, thousands of women and children waited for a ride to freedom. On 28 February 2022, railway workers began to leave on evacuation trips, each of which could be their last. 
More than 1,000 people were rescued every day, with three trips a day. Each car could carry up to 150 passengers. To accommodate more people, mothers with children were allowed to sit in the cab.
On March 5, 2022, when the train was on its way from Kyiv to Irpin, the Russians fired at it. A shell destroyed the track and smashed the carriages. Two carriages derailed. Fortunately, there were no passengers on the train and none of the crew were injured. 
Almost 10,000 lives were saved by this train before Russian bombings destroyed a critical bridge, making further evacuation impossible.
For every Ukrainian, this train is not just a piece of iron that once transported people. It is first and foremost about the sacrifice of the railway workers who were willing to go into the war zone, knowing that they might not return. 
The first days of the full-scale invasion were perhaps the most terrible for the whole of Ukraine, and the capital in particular. The Kyiv region was occupied in the first week, and fierce fighting continued there until the end of April, when the region was liberated. 
The shelling of a civilian train carrying people fleeing the war is further proof of Russia's terrible cruelty. This blue carriage with rusted holes from the shelling is a giant reminder of all those who saved lives, tried to leave and failed, because the Russians can only fight the weak and unarmed.
Today's Cat of Conflict is this feline named Pushok – which means 'furry.' Sent along by a friend, the cat guards the house and museum where famous Ukrainian Taras Shevchenko used to live in Kyiv.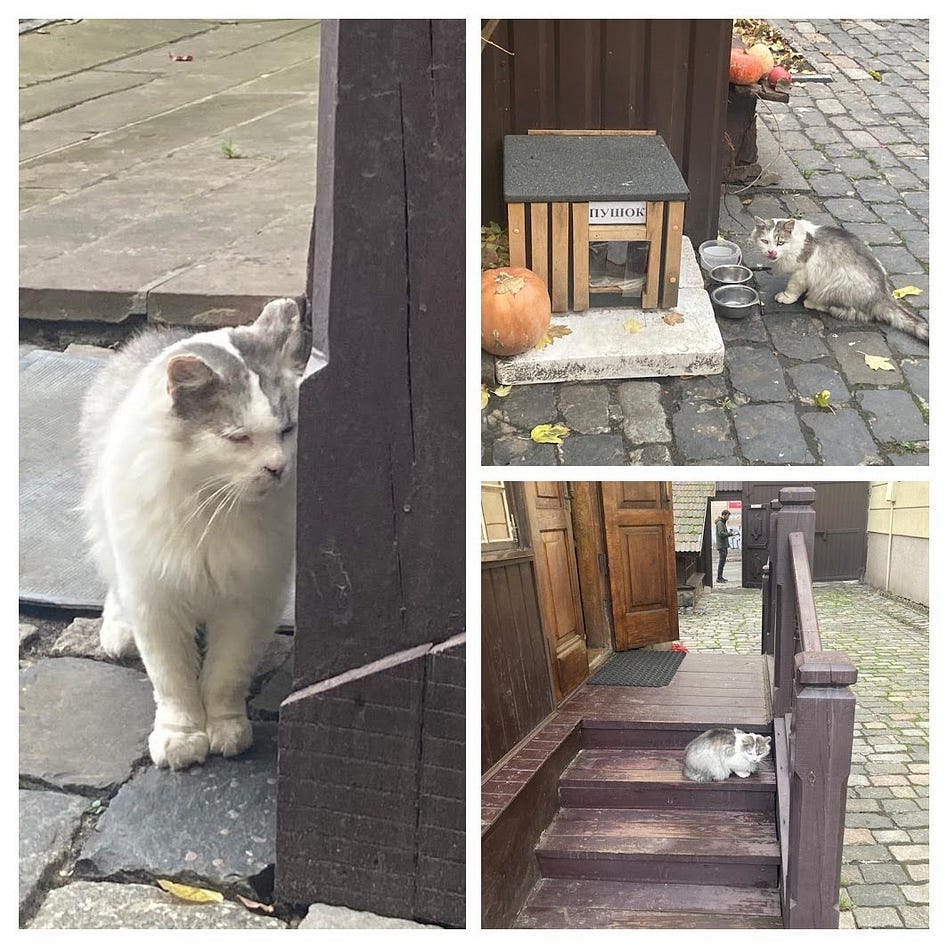 Stay safe out there. 
Best,
Myroslava