Discover more from The Counteroffensive with Tim Mak
A war correspondent's open notebook, reporting live from Kyiv. Compelling human stories that illustrate what's happening during the Russian invasion of Ukraine.
Over 45,000 subscribers
The other Russian war the world forgot
Due in part to Russian intervention, the Syrian Civil War has gone on for more than a decade. Reporting from the Turkish-Syrian border, we talk to Syrians about what it means to persevere.
Editor's note: I'm totally burnt out after my latest trip to Turkey (coming from Kyiv requires more than two days of travel). So we are going to skip our midweek issue, and return with our next issue next Sunday Nov. 26.
Help me take a load off my mind, by signing up for a paid subscription!
Ali Hajj Zakour was at work, manufacturing ceramic tiles, when a neighbor called. 
His home had been hit by a Russian airstrike. 
He rushed home to find his mother and sister dead, and his home ablaze.
It gets worse. The two had been taking care of his son, then just three years old. And he was still inside the burning building. Ali rushed in and managed to find his son's body, carrying it out of the smoke-engulfed room. 
The child was still alive, if barely, and they rushed onto an ambulance to take him to Turkey. 
Mohammed, as he had named his son, "died and returned to life," Ali now recalls. The child was in a coma for three and a half months. He had sustained burns over 70 percent of his body.
"It was a big disaster," Ali said. "Everything has gone away. Nothing remains."
His son has been forced to endure nineteen surgeries over the past five years since the attack. We met in the House of Healing, a charitable initiative in the southern Turkish city of Gaziantep, where Syrians can receive medical help.
There's a strange and terrible unity between Ukrainians and Syrians, one they never wanted. And that is their awful kinship as victims of Russian bombardment and atrocities. Russian intervention in both places led to displacement, horrific injuries, and death.
"They are the same as us. God be with them," Ali proclaimed. "We both receive the same missiles, the same attacks from the Russians."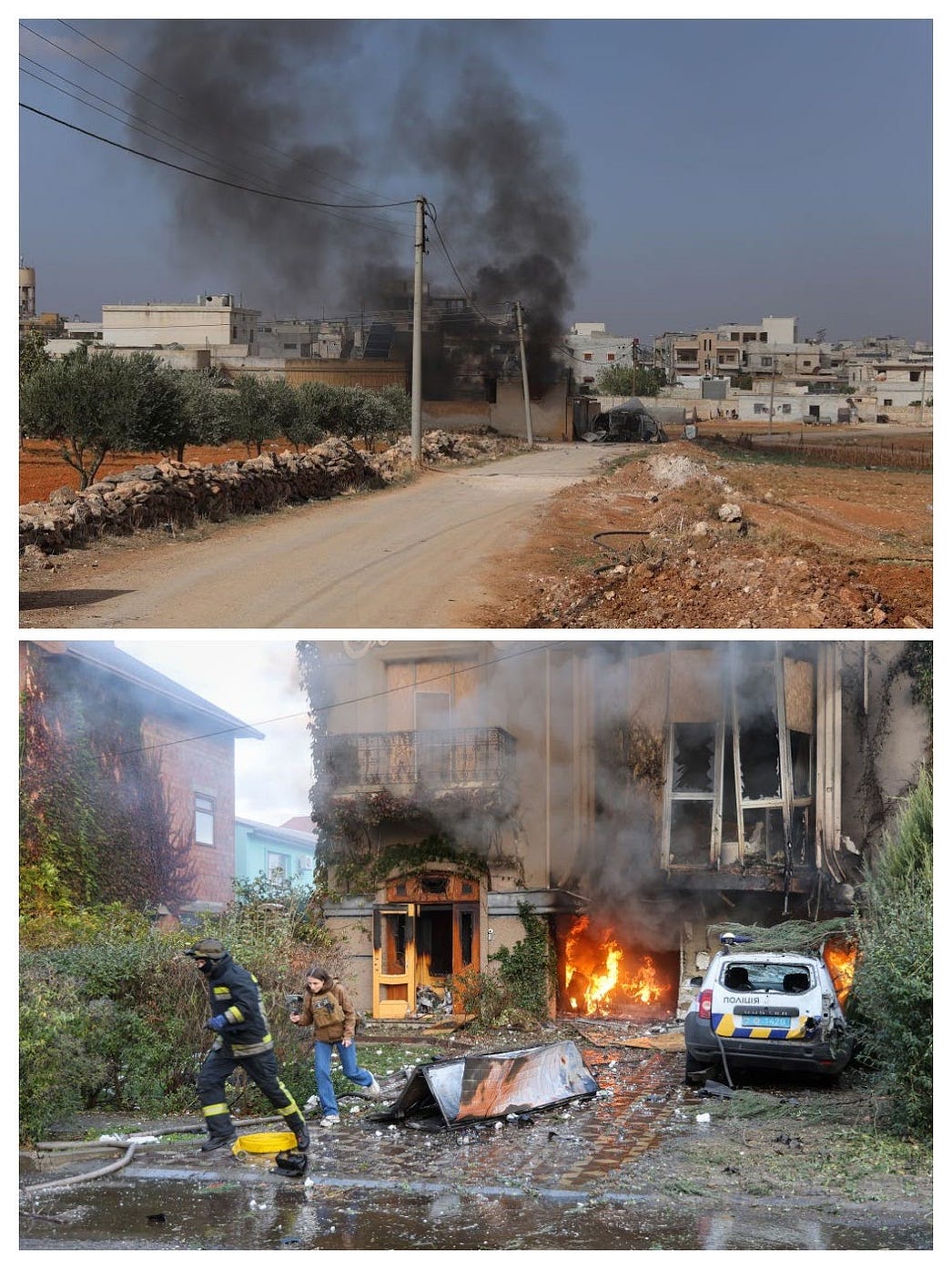 It struck me, as I was speaking to Syrians, that the day Putin dies would be a celebration not only in Kyiv and Odesa, but also one of partying and rejoicing in places like Idlib and Aleppo. Putin's military intervened in Syria on the side of the Assad regime eight years ago, and regularly bomb rebel forces with impunity.
"We hope that day will come soon," one Syrian refugee told me. "We hate Putin more than Bashar al-Assad. We were fighting for freedom in our country. Why did [Putin] come to our country? Why did [he] come to help Bashar al-Assad, the dictator? … Without Putin, Assad would have fallen years ago."
As of last year, the United Nations agency for human rights estimated that more than 300,000 civilians have been killed since the Syrian Civil War began in 2011 with demonstrations demanding democracy and the ouster of the autocrat Bashar al-Assad. 
But if Ukraine risks being forgotten in the Western press, the Syrian Civil War receives even less coverage. Over the last decade an average of 84 civilians have died every single day, many of them as a result of Russian airstrikes or bombardment.
"They are killers. They kill everywhere," said Ali. "Five of my neighbors' children died due to Russian airstrikes." 
Unlike their Ukrainian counterparts, Syrians don't have air defenses. They don't have early warning alerts for incoming planes. They have no air force, no Javelin missiles,  and little Western assistance. The world has long forgotten them. 
There's no app when missiles are incoming. The average Syrian is forced just to listen for planes overhead as a hint that warplanes are coming. Syrian children are terrified when they come into southern Turkey for medical treatment, because they think commercial airliners are a sign that there will soon be explosions nearby.
So it's no wonder that Mohammed is a shy child, one who wasn't particularly interested in making eye-contact with the strange foreigner with a microphone. His face and hands bear the marks of his traumatic early life, with burns on his young feet and hands and face. 
The scars are a constant reminder of the trauma he's been through, not to mention the anti-inflammatory medications he takes (and will have to take for the rest of his life) due to the permanent damage in his lungs.
"My son is like any other child," Ali told me. "He likes to play with other children. He likes to study. He loves studying so much."
Now you might think this is the exaggeration of a proud parent. But Mohammed himself proved this to me. When I went to interview him, the eight-year-old began to cry desperately. He had been pulled from an Arabic-language class where they were learning letters, and he wanted nothing more than to be back in the room learning.
I didn't want to be in between an eager child and his classes, so we skipped an interview and he scurried back to be with his peers. Instead, Ali showed me Mohammed's favorite toy: a painting set.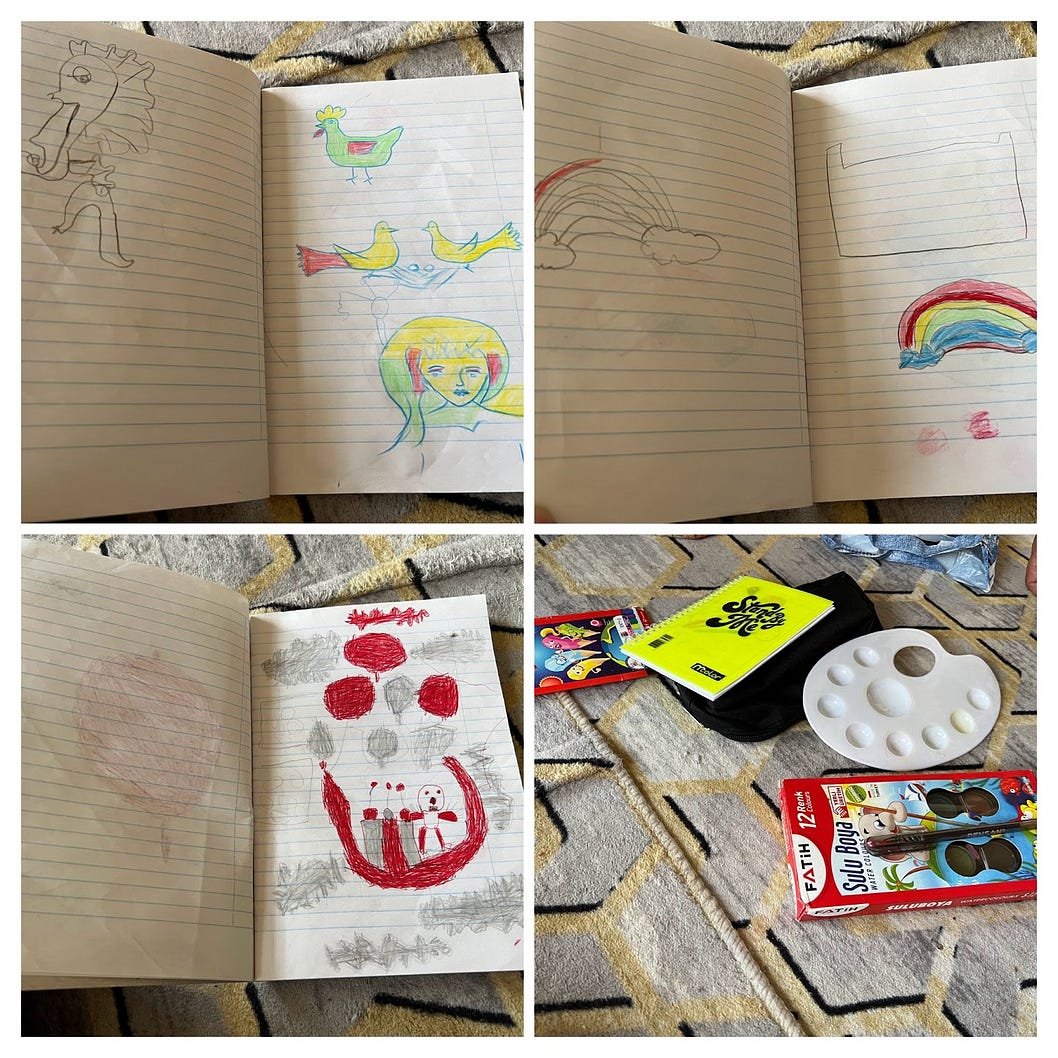 Mohammed still needs five surgeries, including a time-sensitive $1,500 surgery to help him regrow his hair on his burnt and scarred scalp. Doctors told Ali they have only two months to perform the surgery, or his ability to grow hair could be lost forever. 
Among the many other reasons for the medical treatment, there's a social one. Children can be especially cruel to one another, picking apart their peers due even to the slightest difference. And Mohammed's scars have made him an outcast.
"The other children refused to play with him, due to the burns on his face," Ali said. 
His wife passed away after the Russian airstrike. Now all Ali and Mohammed have is each other, and the hope that they'll be able to somehow find the resources to help him get his final surgeries. 
"There's nothing more important for me," the proud father said.
The Counteroffensive with Tim Mak is a reader-supported publication. To receive new posts and support our work, consider becoming a free or paid subscriber.
NEWS OF THE DAY
Good morning to readers; Kyiv remains in Ukrainian hands. 
But there are concerns that just like Syria, the world's attention is turning away from Ukraine due to the war in Gaza.
UKRAINE MEDIA COVERAGE PLUMMETS: CNN has been checking its own output, and reports that after October 7th, its coverage of Ukraine fell from 8 percent of the total coverage to under 1 percent. The network had been one of the most reliable in its regular coverage of the Ukrainian conflict.
Following the war in Gaza, most media coverage of Ukraine has been focused on diplomatic decisions, such as whether to give or not give military aid to Ukraine. But, frontline news on how the war is progressing has been far less present in the media. 
UKRAINIAN SOLDIERS STORM BARRACKS: Ukrainian forces conducted a night raid on Russian barracks on Friday, in order to widen the bridgehead that was established on the eastern bank of the Dnipro river this week. 
A Russian fighter released a video saying that Ukrainians attacked Russian fighters who were exhausted and who did not have enough men, leaving them more vulnerable to ambushes.  Ukrainians operated using silencers, night vision equipment and grenades in the attack. 
LARGE DRONE ATTACK ON KYIV: Last night, Russia attacked Kyiv with drones for the second night in a row. Ukrainian air defense shot down ten drones in and around Kyiv, according to the local government. This attack was then followed by another wave of attacks on Sunday morning.
FINLAND CLOSES RUSSIAN BORDER: Finland closed four of the busiest border crossing points it shares with Russia, in order to decrease the flow of asylum seekers. According to the Border Guard in the last week around 300 asylum seekers, predominantly from Iraq, Yemen, Somalia and Syria, have arrived in Finland.
On Wednesday, Finland's president claimed that Russia was pushing asylum seekers over the border as revenge for Finland's defense cooperation with the United States, which Russia has denied. Ursula von der Leyen has responded by saying "Russia's instrumentalisation of migrants is shameful."
REPORTER'S NOTEBOOK
There's a common Arabic phrase, inshallah, which means 'if God wills it.' You might think this is a primarily religious reference, but I found it used all the time to indicate a different kind of secular feeling. 
A friend I met on my trip to the Turkish-Syrian border said when she asked her parents for a toy, she would often hear the reply, 'Inshallah.' In other words, no, without an act of God!
I also heard it used as a hedge against something ruining the schedule of the day. "We will travel to city X, inshallah." Here it means something like: well, we have plans to go there, but you never know what inconvenience or bureaucracy or tragedy might mess it up. 
All of this is to say that I was supposed to travel into Syria but ultimately could not. 
Inshallah, we will try again.
A video from near the Turkish-Syrian border.
However, I am coming back from Turkey with a lot of wonder for the Syrian people. 
The war in Ukraine has now gone on for more than 600 days. The dominant feeling is one of exhaustion and pessimism, at least for the time being. But then you look at the Syrian refugees, their advocates, and ordinary civilians – and it feels pretty self-pitying to talk about how long the war has lasted. Their war has been going on since 2011. 
"We used to be the war most people paid attention to. Now, that's over," one advocate said to me.
And despite how long it's been, how many airstrikes have landed, many advocates and humanitarian workers – not to mention  civilians – are still extremely motivated. 
They're still fighting for a democratic society, still working to overthrow Assad, still finding the energy to promote humanitarian goals.
Mohammed Noor Yaserji is the director of an orphanage in the Turkish border town of Kilis, just a stone's throw away from Syria. 
He arranged for the 39 orphans under his care to sing when we arrived at their facility, 'A Noor Home' (noor means light).
"A lot of the kids… that we have here have no birth certificate… They were born into the war. They lost their parents. They were never registered. So a lot of the kids that we have here, too, are just essentially stateless," said Yaserji. "And so we try to provide them with whatever we can, whether it's housing, food, education, whatever we can based on donations we receive."
Syrian orphans sing when we arrive at A Noor Home.
Yaserji arrived in Turkey as a refugee himself twelve years ago, after his home in Aleppo was destroyed. Yet, twelve years into the war, he opened up the orphanage just in the last year – almost as an act of defiance to the ongoing Russian and Assad regime strikes in northwest Syria. 
"It is the Russians, and Putin, that are in complete control," he said. "They can stop at any point bombing schools and hospitals and kids. They can stop at any point creating more orphans and they decide not to." 
Nour al-Hamouri, from Ghouta, was lucky enough to survive a Russian bombardment. Her leg was destroyed during a Russian airstrike at the age of 14. A wall fell on her, breaking her pelvis and pinning her to the floor for an hour. 
Blood flowed from her, and she remembers telling bystanders to please tell her mom that she had been killed. When medical first responders arrived, she made the same plea. They kept asking her name – 'Who are you?' – but in the chaos, and perhaps due to the bloodloss, she couldn't find the words to utter her own name. 
Now undergoing physical therapy in Turkey, she is studying to be a therapist – trying to use her pain and trauma to make herself a more empathetic professional who can help children who, just like her, had been wracked by the events of war. 
And she also made another change: after the injury her parents gave her a golden necklace with her name on it, so that if something happens to her in the future at least people would know her name.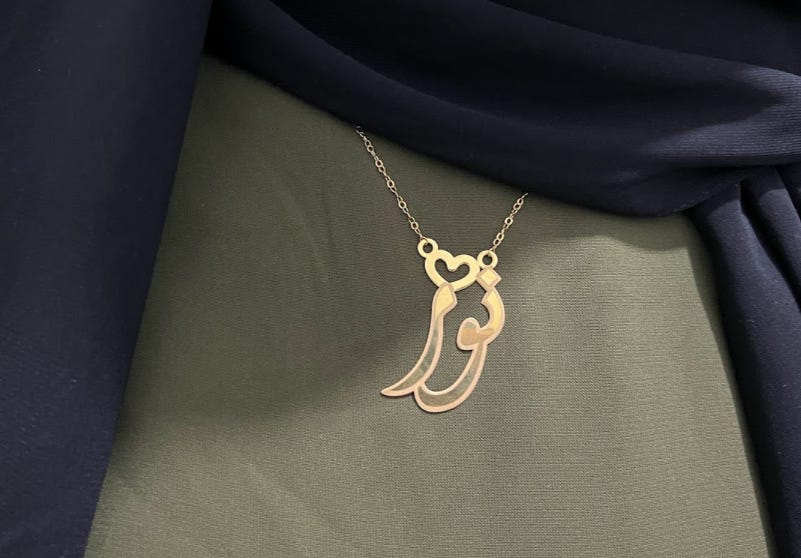 These people are inspiring. And their continued determination is a lesson for Ukrainians who might be feeling a little down, or a lot forgotten. 
"Sometimes you get pessimistic, but eventually, you have to rise up from there and just keep living," al-Hamouri said. 
It's a reminder that Ukrainians can go on.
Because they must. 
Today's Dog of War is this pup we saw ferociously guarding the offices of Bahar, a Syrian humanitarian organization that operates in northwest and northeast Syria.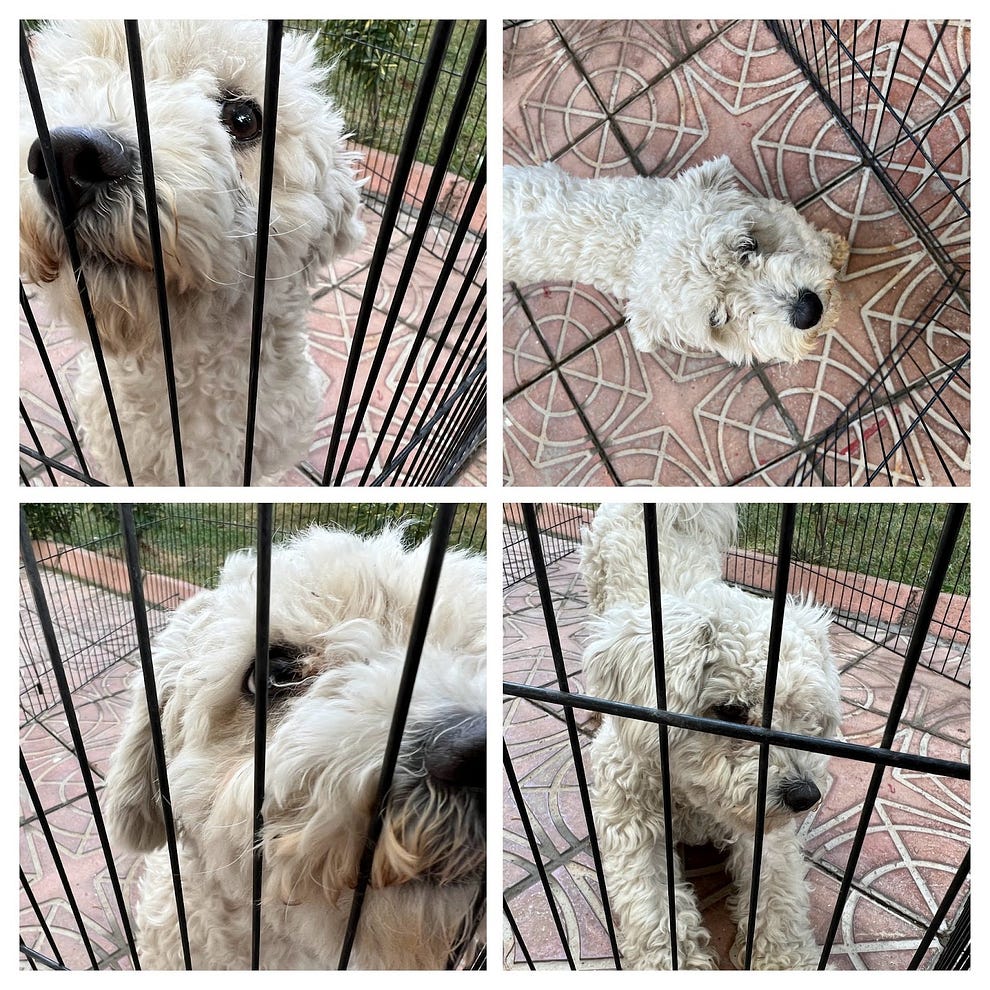 Stay safe out there. 
Best,
Tim