Discover more from The Counteroffensive with Tim Mak
A war correspondent's open notebook, reporting live from Kyiv. Compelling human stories that illustrate what's happening during the Russian invasion of Ukraine.
Over 45,000 subscribers
What it feels like to lose a limb in war: "When I woke up, there was no shock. I knew."
Thousands of Ukrainians have lost limbs. We visited the Superhumans prosthetics center, which restores function, and also hope. And Ross finds he can't return to his favourite sport, boxing.
Editor's note: I've just gotten back from the Turkish-Syrian border for a story that will be published in the next issue. If you want to read about the personal effects of Russia's violence around the world, please subscribe and join us on our reporting journey!
The first thing that strikes you about Serhii Zhukovskyi is his cheerful demeanor. 
It isn't the fact that he lost both arms in the war. 
Or that his limbs were amputated almost to his elbows. 
You hardly even notice at first. It's a secondary observation, after his pleasant, always-smiling face.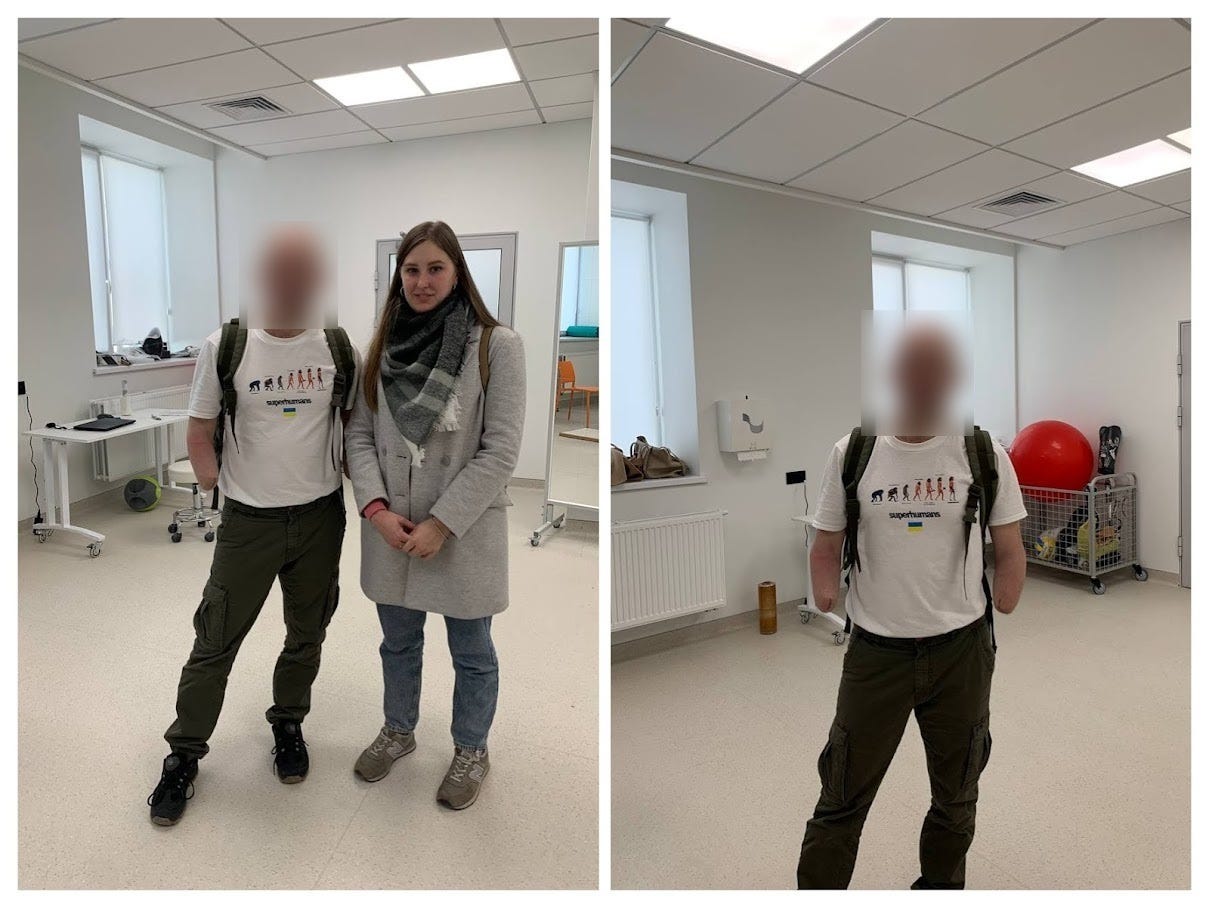 Serhii is from Tokmak, a small town in the Zaporizhzhia Region. It's one of the strategic points in southern Ukraine that the Ukrainian military is fighting to get to, in order to cut off the Russian land bridge to Crimea. 
A few weeks after the full-scale invasion began, Serhii decided to volunteer. He served in the airborne assault troops and was promoted to junior lieutenant in the spring of 2023. During this period, he was slightly wounded, but returned to combat almost immediately. 
Until June. 
"The explosives went off too soon. I lost two arms, damaged my left eye and my eardrum," Serhii said.
He had been badly injured during a training exercise, and was rushed to hospital immediately.
"I was conscious, I saw everything. Before the operation I asked the doctor to leave the length of my arms as long as possible," Serhii said with a stony face, as if he had relived the moment. "When I woke up, there was no shock. I knew."
About 50,000 Ukrainians have lost arms or legs in the full-scale war, according to the Wall Street Journal. Serhii's story is just one of a seemingly-endless number of wounded civilians and soldiers who have a long road to recovery ahead of them.
The Superhumans prosthetics center has been in operation since April 2023, based in a military hospital 10 kilometers from Lviv.
The scale of the facility is astonishing. And also disturbing. 
There are dozens of patients without limbs. How will they react to me? How can I not offend anyone? How can I express my gratitude for their heroism?
There is modern equipment everywhere, new training machines, and everything is equipped with lifts, ramps and handrails. There is a laboratory for the manufacture and assembly of prosthetic limbs, a physical rehabilitation department, a rehabilitation pool and a psychological support unit. All are available for both civilians and soldiers. 
Superhumans is a unique center because they offer comprehensive services. They simultaneously take measurements, make a prosthesis and teach the patient how to use it. They also provide psychological support when it is difficult for a patient to accept the loss of a limb.
After a few minutes in the center, all my fear vanishes. No one here treats the patients as weak, or incapable.
The Superhumans center is more than just a factory churning out products, or even the restoration of a limb. It's the place for the restoration of hope, dignity and – with some time – inner peace.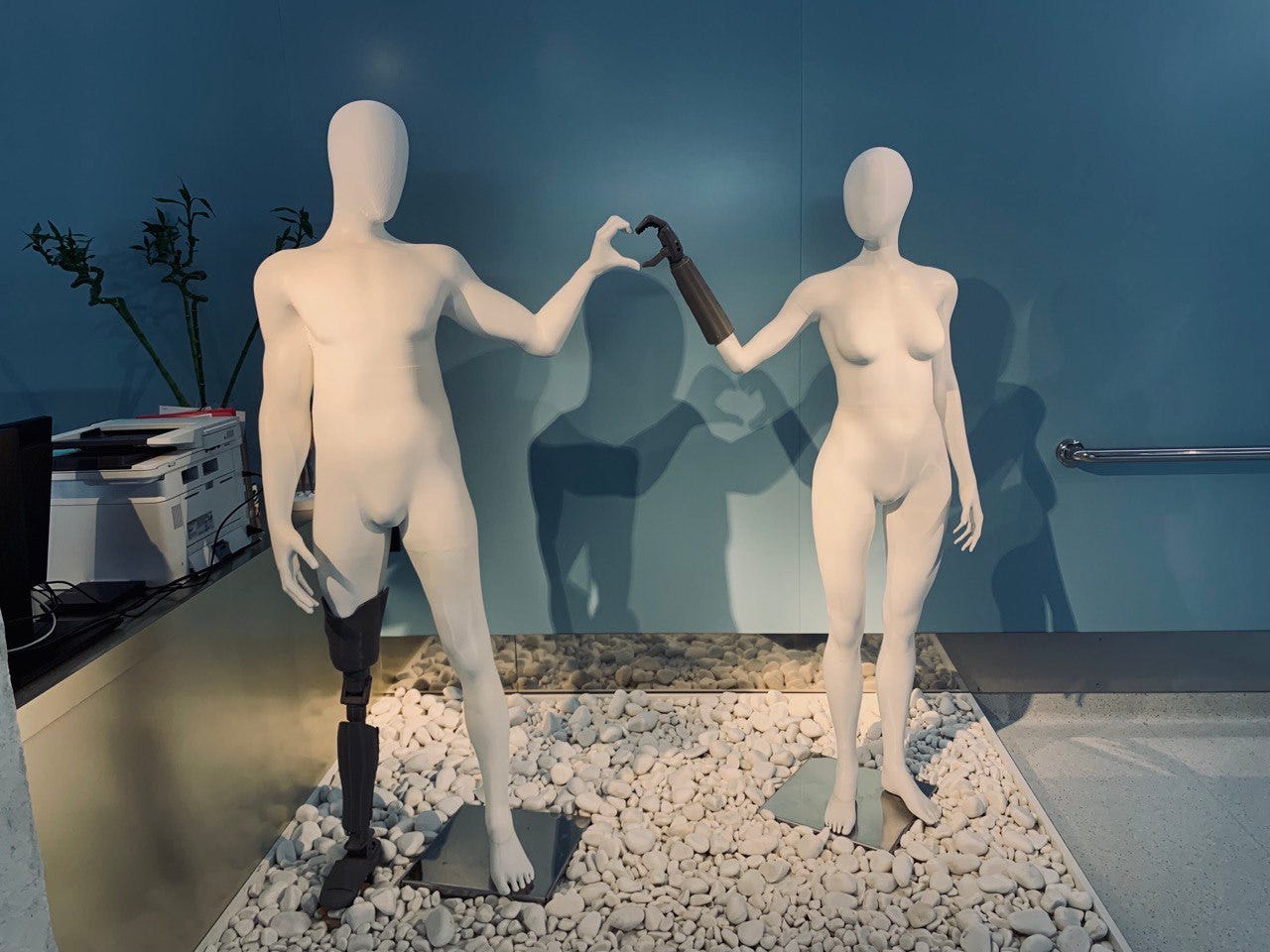 After his injury, Serhii Zhukovskyi's wife Daryna immediately started looking for prosthetic centers. That's how she found out about Superhumans.
In September, the couple applied for prostheses. And in just over a month, Serhii received two new arms.
All prostheses are customized and made directly at the Superhumans Center. 
They are tried on and adjusted if necessary to make the patient comfortable.
Serhii has received two of these bionic prostheses. His wife told The Counteroffensive that when he received a prosthesis, he felt more confident. 
"When he lost his limbs, he became dependent. He felt pain. Serhii jokes that he became a bit moody and not very happy. Serhii fought and overcame depression," Daryna said.
The doctors at the center told me that it is impossible to completely replace the arm, even with a bionic prosthesis, but it is the closest thing to a real limb. With the prosthetic, you can drive a car, ride a bike, hold a child or drink tea.
In total, more than 160 patients have been treated and discharged from Superhumans since April. 260 are currently learning to use their new arms and legs. Another 600 patients are waiting for prosthetic limbs. And more than a thousand have submitted applications for consideration.
Serhii is also undergoing rehabilitation. Every day he comes to Superhumans and works with a rehabilitation therapist for several hours. He does various exercises to learn how to use the prosthesis.
"I control with one hand and pick up the ball with the other. I do exercises to bend and stretch my arm. Today I moved balls and dice from one box to another. My left arm is very tired. I need to rest it. I can't do it for long," Serhii said.
Serhii's wife told me that he was a fast learner. In fact, a few weeks after my visit to the center, she said that her husband was already coloring in coloring books and writing a few sentences with his bionic hand.
The prosthetics are helping with the recovery, no doubt. 
But for Serhii the biggest medicine is his determination. He's not going to let a little something like losing two limbs stop him from going back to war. After rehabilitating, Serhii is going to work as an instructor, training new soldiers at one of Ukraine's training grounds.
"Even if I knew I would lose my arms, I would still go to war," Serhii told me. "I know that we are all fighting for our country." 
NEWS OF THE DAY
Good morning to readers; Kyiv remains in Ukrainian hands. 
UKRAINE EXPANDS FOOTHOLD IN KHERSON REGION: It's a major development on the east bank of the Dnipro River: both the Russian and Ukrainian governments are acknowledging that Ukrainian troops are operating on what has long been territory held by Russian troops.
The river has been an effective defensive barrier for the Russians, as it's very hard to cross in large numbers. 
"Against all odds, Ukraine's defense forces have gained a foothold on the left bank," said Andriy Yermak, who heads the Ukrainian president's office. 
A Russia-installed official for the region, Vladimir Saldo, said that they were sending reinforcements to the area, and that a "fiery hell" awaited Ukrainian troops. He did concede that Ukraine used "more manpower than our means of destruction were able to destroy."
BIDEN CALLS XI 'DICTATOR': The two presidents met in San Francisco, and spoke about Russia's refusal to stop its invasion of Ukraine, the need to maintain peace in the Taiwan Straits, and what Biden called China's "coercive activities in the South China Sea." 
Both sides trumpeted progress during the talks – Xi's first visit to the U.S. in four years – but Biden's comments about Xi being a "dictator" led to Chinese pushback. A Chinese Foreign Ministry spokesperson called this characterization "extremely erroneous."   
Here's what Biden said: 
DAVID CAMERON IN KYIV: The newly-appointed British Foreign Minister chose Ukraine as his first destination in the new role, pledging to back Ukraine for "however long it takes." Zelenskyy thanked Cameron for the visit, noting that global attention had been shifting away from the war in Ukraine. "The world is not so focused on the battlefield situation in Ukraine, and this dividing of the focus really does not help," he said.
REPORTER'S NOTEBOOK
Hi there, it's Ross. 
I haven't put on my boxing gloves for almost two years. 
I recently went back to the gym so I could write about the sport which is so popular in Ukraine. But when I went, I felt afraid, and embarrassed, and it is even difficult for me to fully explain why.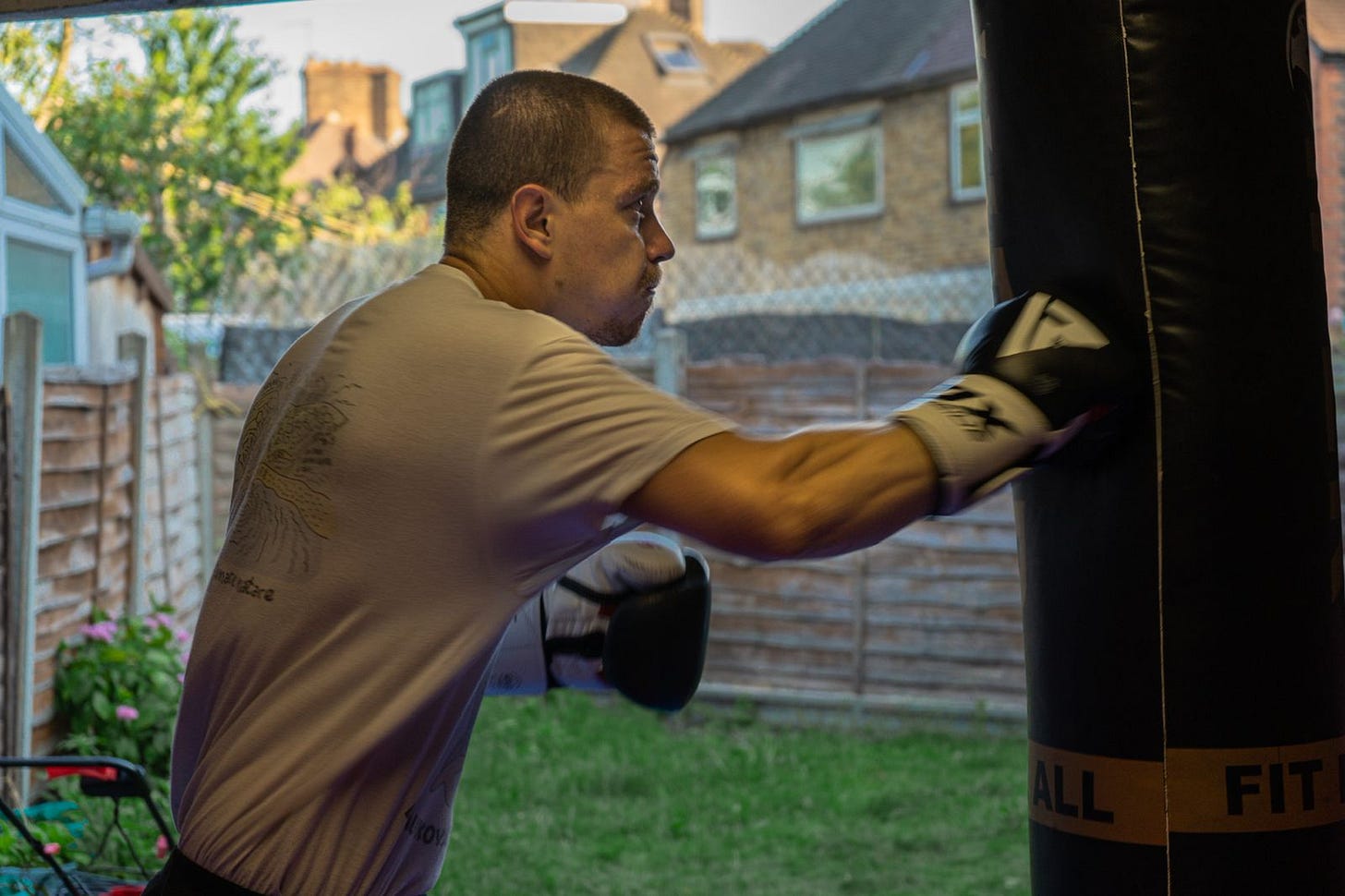 It has happened to many of us, that war has changed our perception towards this life, as well as the things that brought us joy. 
They suddenly became irrelevant in today's reality.
I never considered myself a boxer formally. I somehow always thought that boxers are people who walk the path of competitions and championships. But ever since I was 17, and discovered the nature of this craft, I fell in love with it, and despite my lack of skill I've managed to see this unique beauty and intelligence of boxing. 
It's not a simple clash of two opposite forces, but what you in America might call a "sweet science."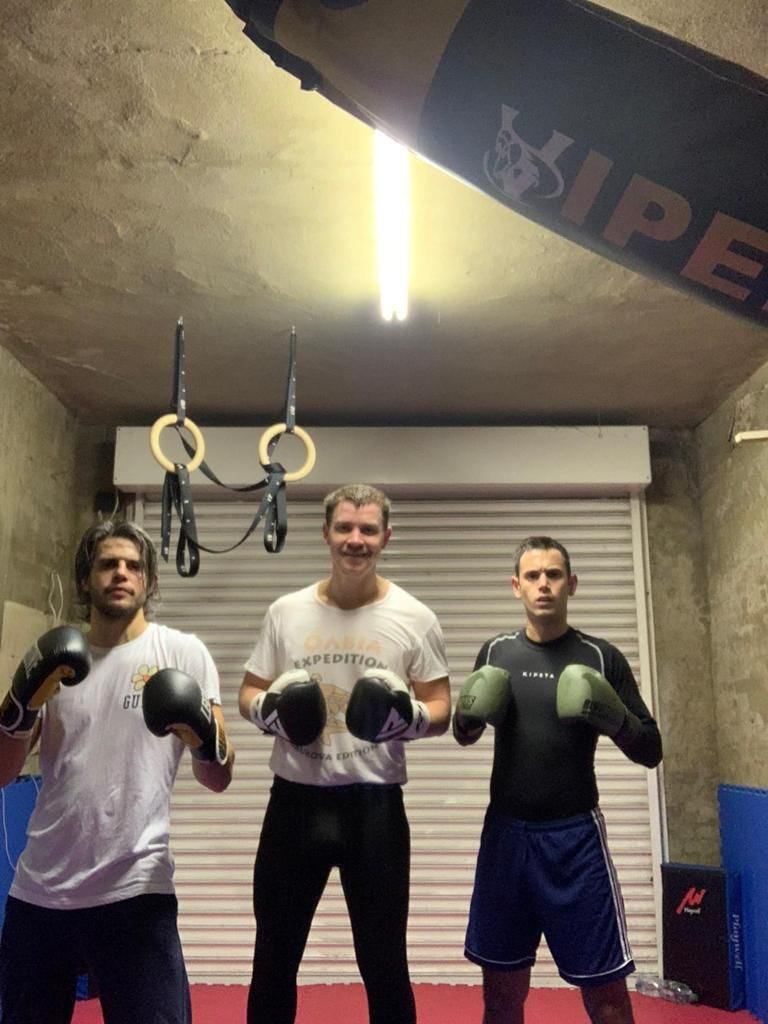 Most people, when they are watching a boxing competition, see two muscular guys in gloves with clear intentions to hurt each other while the crowd is cheering for violence. 
And from this angle it seems that we as a civilization haven't made much progress since Roman times. We still watch violence, just make it more controlled, less brutal. 
But the person who truly understands boxing realizes that there is much more than the simple instinct of killing.
Boxing is competition of will in the first place: two opposite forces are artificially put in similar conditions, with the same rules. But the two people have different body compositions, cardiovascular systems, arm lengths, lungs capacity. They have different approaches in their strength and endurance training, they both created different systems to develop their body and mind. to be able to inflict and sustain more damage. 
So if we dig a little deeper, we will see that boxing is one of the best exercises for human determination. People who've been studying the mechanics of throwing the correct jab will confirm that it is a whole science by itself. 
Being the weakest kid throughout my childhood, and for much of my teenage years, I still don't really understand what drove my friend to invite me for a kickboxing class. He probably thought that if he didn't then, I would totally lose the opportunity for any physical development forever.
Time has moved on. My friends quit training long ago. But I continued to hit the bag, beat people and get beaten by them. I never enjoyed violence at all, but somehow discovered one of the best exercises for my will. 
I spent the next 10 years of my life with gloves and a heavy bag. I left Ukraine, said goodbye to old friends, changed my cities and environment, but still anywhere I went I found people that enjoyed the same struggle. 
And when there were no people around, there was always another shed or garage in which I was able to hang my heavy bag. It was the root, the foundation, the most stable force in my life. No matter what was happening in life around me, what storms life had been dragging me through, I knew that I could put gloves on, and find peace. 
Well, not anymore. 
I never loved violence in the first place. Violence in boxing I valued for its ability to show you the nature of reality by punishing you for every mistake you make. 
But fists changed for bullets today, and lost rounds turned into the death of your friends. 
The things that looked violent before war happened to be a mere warm up. 
The things that brought us comfort and joy vanished. They became irrelevant. They became like child's playthings.
During the writing of this story I thought I would reminisce a bit about the old days, visit a gym and hit some heavy bags. Or maybe work on some pads with a friend, just to remind myself how it actually feels. 
I tried to visit an open gym in Kyiv, but upon my arrival there I discovered that the heavy bags that were there for anyone to use had been removed. It was another sign that the old life is gone, and now we have to adjust to the new one.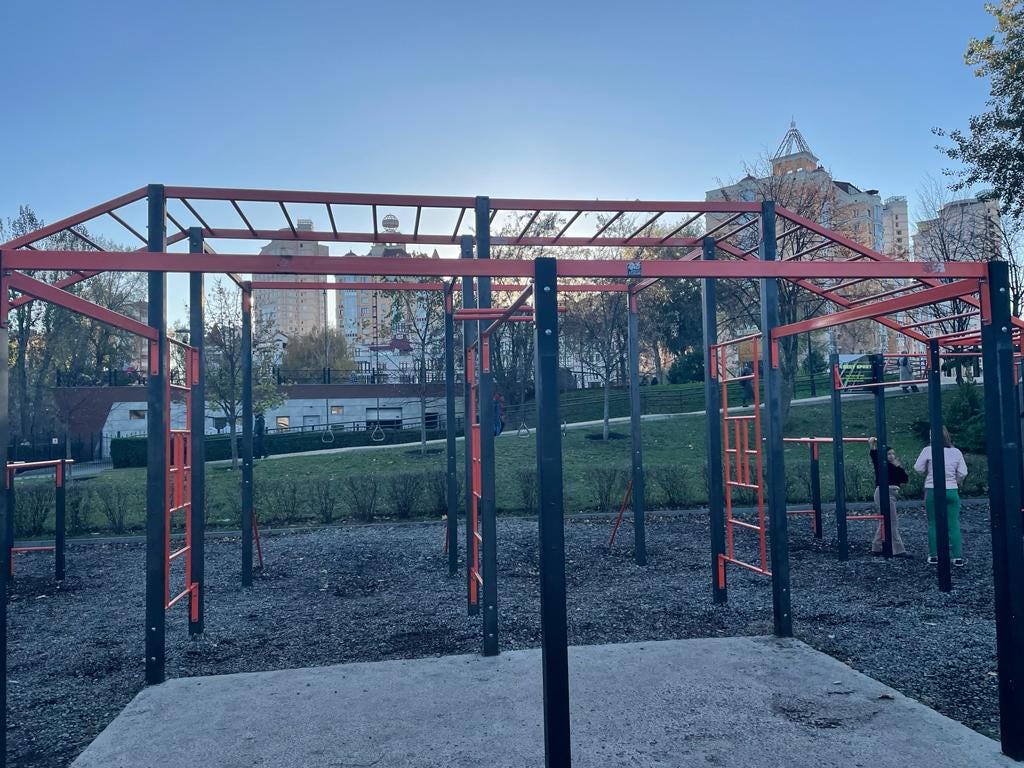 My second attempt involved calling a friend of mine to go to the park, and do a training session there. He said that the weather is not the best. And there are mobilization patrols on the street, he doesn't want to be conscripted.
It looks like the old life is gone. At least for now, as long as we have an enemy that threatens our own nation's survival. 
Like all other people I also want to believe that one day my everyday reality won't be about death, destruction and suffering. But today it is. 
So I never actually went boxing. I feel embarrassed now just thinking about it, fighting with fists when there is a battle of bullets now. Combat sports are there to test your spirit, to prove that you are strong, that you can go and stand your ground against some opposite force. 
And today, the opposite force is Russia. So I've hung up my gloves, and picked up a pen. 
Today's Dog of War is Chui! This pup was spotted on Trukhaniv Island in Kyiv.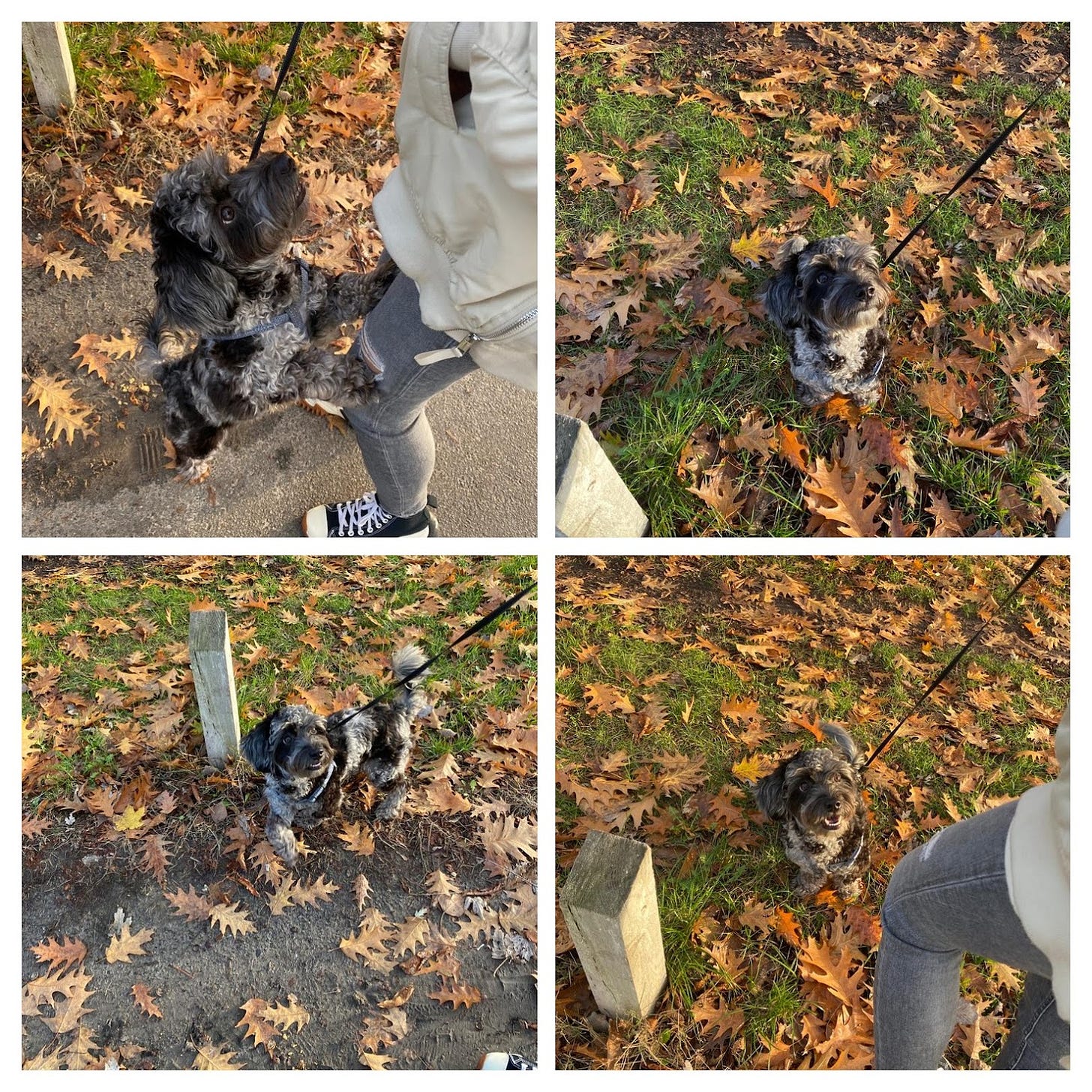 Stay safe out there. 
Best,
Ross